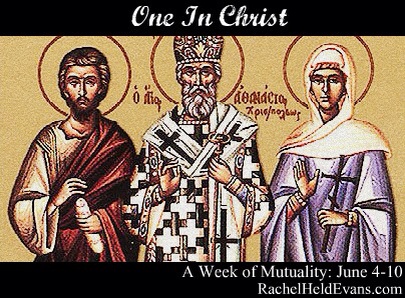 I never did get around to posting my Friday Favorites for this week, but each and every one of them (and then some!) are on this list!
Rachel Held Evans has been hosting the Mutuality 2012 synchroblog, and the articles have been AMAZING, to say the least. She's included links to all 188 of them in this blog post. The work she must have put into the work of compiling them is astonishing. And if you add up the blood, sweat and tears of the contributers, the years of scholarship, the years of heartache, the bold cries for justice and the impassioned pleas for shalom–it is Simply. Amazing. (Cue my ECC peeps busting out in a resounding chorus of Stromberg's "When Justice Rolls Down," clapping on beats 1 and 3.

) Think you can read through them all? Go!
On a similar note, I'm sharing a link to my friend Dr. Arloa Sutter's Mother's Day sermon about misogyny in the ancient world, how the early church combatted it, and surprising mommy methaphors for God in the Bible. Her explanation of the word "compassion" is amazing, and worth the price of admission for anyone who has ever birthed a baby. This is one of the things I love about hearing women speak–they catch things common to the female experience that men would be less likely to notice.
Happy Sunday, everyone!