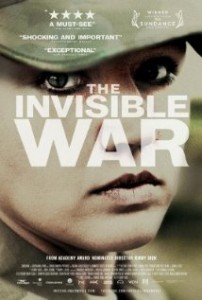 "For everyone who cares about our military and feels it is our duty to stand up and protect the people that give their lives to protect us, The Invisible War is your call to action," said Alexandra Marie Daniels on TheWip.net.
According to the Department of Defense, over 20 percent of female veterans have been sexually assaulted while serving. The Invisible War tells their stories, and exposes the callousness with which these crimes have been ignored, dismissed, and covered-up.
Still, The Invisible War is not an anti-military film. Filmmaker Amy Ziering explained "Every woman I talked to said they did not want to participate if it was anti-military and we wanted to honor that." Ziering and her fellow filmmaker Kirby Dick affirmed "that if the arguments were to be heard, we didn't want the military to feel it was on the defensive or under attack. That was a conscious effort on our part, which we see has really paid off."
The film is already having an impact. It won the 2012 Sundance Film Festival Audience Award, and strategic "grasstops" screenings for high-ranking government officials are making waves. One general said "You know, [the film] helped me so much more than a briefing paper… I get it now."
Amazing what happens when people tell their stories.
Amazing what happens when people really listen.
What do you think?
How can We The People make change in this area?
And how can we better support our hurting veterans, no matter what caused their trauma?