We're kicking off the Equally Yoked series with Kathy Harris's reflection on 25 years of shared life and ministry with her husband, John. There's an amazing amount of wisdom here, and a heaping helping of Aussie common sense. Enjoy!
My husband and I came from very different family backgrounds, but both entered our marriage with the view that our partner was made in the image of God, gifted by God, skilled by learning and experience and someone we were called to submit to (Eph 5:21). We had met at university, so from the get-go we had treated one another as equals, and marriage never changed that.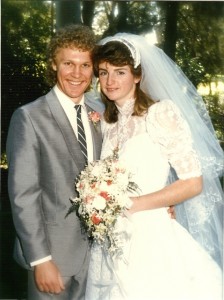 Throughout our 25 years of marriage our roles have changed depending on life-circumstances – each new stage of life and new living circumstance (we've moved at least 11 times and over three countries!) would require re-negotiations of how things would get done in the home, work, ministry and family. Throughout the whole time we have both worked, been involved in ministry, shared the parenting and even the home-schooling of our sons for five years. We find ourselves now in the situation where we not only live together (of course!) but we work together as trainers and also pastors meaning we are together 24/7. And we both love it!
In 25 years we have never found that we needed a "tie-breaker" to make decisions. We work on the premise that for small decisions the one who feels most passionate or whom it affects most, makes the decisions (therefore my husband makes all decisions on technology in this house and I generally set all the menus and cook what I want to eat!) In the "big" decisions we have come to the conclusion that we only move forward when we are both 'on the same page'. We discuss our options, we pray together, we allow each other the space to think and decide and then we only move forward when we both feel in agreement. This has helped us to step into some amazing adventures with God but also avoid some other less desirable situations.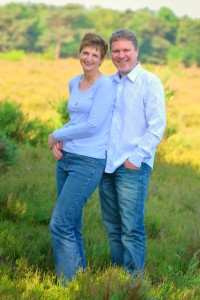 I also feel that the "love and respect dichotomy" is very overrated and in my case (and I suspect for many other women) is actually quite false. Obviously everyone needs to feel loved by their partner – men are no exception to this – but also I have a strong need to be respected for the gifts, talents and skills that I have. I feel most loved when my husband says things like: "I love working with you – we are such a great team"; "Great job on that sermon –I saw that you really began to own it and speak with confidence". I believe the 'love and respect' concept is like many generalizations that can be true for some people but can lead to many problems if one assumes it is always true.
If our two teenage sons grow up to be half the man that my husband is they will make great husbands for two lucky women! Recently our oldest son (19) said that it was a relief that he didn't have to buy into all that male leadership pressure! He firmly believes that women are his equals and he readily acknowledges the debt he owes women (mother, teachers, girlfriends) for his own spiritual growth.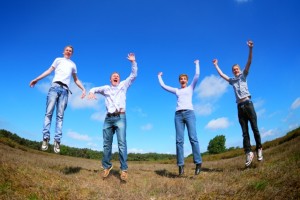 As we have matured and our marriage has developed we have found that for us the key has been to love and respect one another as amazing (yet flawed!) people made in the image of God, gifted by God and loved by God. We work, live and love each other as a team. This has served us well and given us a very happy marriage despite some very, very difficult years of insecurity, sickness and 'adventure'. There is simply no need for hierarchy in marriage if each partner loves and respects the other partner completely.
Kathy grew up as a missionary kid in Papua New Guinea as the daughter of Australians. She and her husband, John, went into missions themselves in 2001 starting in Ukraine and for the past 5 years in the Netherlands. They serve their organisation as team trainers, member care workers and are also part of the Pastoral Leadership Team of an international church in Hilversum, Netherlands.
Next week's Equally Yoked post is from Morgan Guyton.
Want to contribute to the Equally Yoked series? Email Jenny at jennyraearmstrong@gmail.com.
Leave a comment for a chance to win How I Changed My Mind About Women in Leadership: Compelling Stories from Prominent Evangelicals. Winner announced Feb. 1st.