I first stumbled across Jonathan Aigner's writing in an article he wrote for Mutuality. I was struck by his ability to express his points clearly and simply, without sacrificing the personal elements that make his story so compelling. I'm thrilled to have him blogging for Equally Yoked today, and hope you enjoy his post as much as I do!
Egalitarian is a bad word where I'm from. Actually, it's a concept so foreign to the people I grew up with, I usually have to explain it, and then it becomes a bad word.
See, I was raised as a Southern Baptist homeschooler deep in the heart of Texas, where we like our steaks rare, our trucks big, and our women in their place. Patriarchy dominated our homes, our preaching, our homeschooling conferences. It was an essential doctrine, right next to the virgin birth and bodily resurrection.
Things changed for me during grad school in the far away land of Illinois. By the time I married my strong, capable, beautiful wife, I was an egalitarian, at least theoretically.
Many of my complementarian friends are constantly preoccupied with how to best contort themselves into being good stereotypical husbands and wives. The men labor under the crushing weight of having to always be protectors, providers, and priests. The women allow their own unique gifts and sense of calling to be buried in the name of being a "cheerful helpmeet." Sadly, individuality is far too often lost in the name of "biblical" manhood and womanhood.
Thankfully, that's not been my experience. It isn't always easy. Old habits die hard and hierarchical roots run deep, but I'm finding egalitarian marriage to be increasingly natural.
Here are the things I appreciate most about being "equally yoked."
We fulfill functions, not roles.
Of course, we're still male and female as God created us, but our gender doesn't predestine how our relationship is going to work itself out. We both provide. We both protect. We both lead spiritually. We both do housework. We both lead and we both submit. Sometimes it's decided by our particular strengths. Other times it's decided by our circumstances. The one constant is that we both are willing to step up whenever and wherever we're needed. After all, reducing someone's entire existence to a set of rules is more than just stereotyping, it's dehumanizing.
We discover each other anew every day.
We are better able to understand each other because we don't assume anything. We don't assume that I have blue ears and she has pink. Neither of us fit into these traditional stereotypes, and I don't think we can ever really get to know each other if we boil manhood and womanhood down that way. It's deeply honoring to have a spouse that really seeks to understand you. We approach each other as mysteries to be discovered and that makes life endlessly exciting and love endlessly regenerating.
We don't have to play silly "gender" games.
A friend once cautioned Kelsey not to take on too many home maintenance tasks, since that sort of thing was supposed to be my responsibility. Such a concept was hilarious to us, since Kelsey is much better at working with her hands than I am. She doesn't have to tiptoe around, taking great care not to bruise my fragile male ego. On the other hand, of the two of us, I'm better in the kitchen, and that isn't at all threatening to Kelsey's sense of self-worth.
Being equal means we just don't have to worry about all that stuff.
We collaborate in planning our life direction.
I'm sharpened by a wife who is free to take me to task over my decisions and motivations. She can push back when she disagrees without worrying that I'm going to meltdown into a "manly" temper tantrum or throw my weight around. When we disagree, we talk about it. I recently saw a video produced by a hierarchical organization that said husbands should "dominate in all areas of eternal significance," especially in marriage and family. I think that's a grave error. It's a real joy for us to work together in figuring out our next steps.
We learn how to really listen and understand.
Most complementarians don't get how egalitarians settle differences. How we listen to each other when we disagree, trying to find the core of the concern. How we don't pressure issues and take time – sometimes months or years to be prayerful and understanding. How we never use power plays to convince or coerce the other. Nobody has a veto. Nobody has the final word. We just pray and listen to each other till we agree.
We've learned we really don't disagree very much and when we do there is usually growing we both need to do. If we don't agree we just aren't done talking, understanding and praying. Marrying a counselor definitely helps in this area, but I suspect this kind of communication is common within egalitarian marriages.
We have a deep and fun friendship.
Because we are constantly growing together, we really prefer to spend time together than with anyone else. In fact, we have to remind ourselves to schedule time with friends. We uncover new ways of having fun and can laugh at ourselves and each other because of the safe vulnerability between us.
I don't always have to be the strong one.
Either one of us can be strong when the other one is weak.
I married a strong person. She's not intimidated by anyone. In fact, on multiple occasions I've seen Kelsey's natural confidence intimidate the most brazenly egotistical of men. I used to feel threatened by strong women, but I've found it to be a great source of comfort in our marriage, particularly during the times I've struggled most. In a lot of hierarchical marriages, I've seen men treat their wives as if they were not quite adults. But I have a full partner who is quite capable of helping me, even carrying me, through the darkest times.
We are one, but we are still two.
This is where I've found the redemptive message of mutuality to be most life-giving. We aren't some strange amalgamation of Kelsey and Jonathan (Kelsathan?). We're still Kelsey and Jonathan.
Sometimes I think my complementarian friends are just watching us, waiting for the bottom to fall out. They see us, a male elementary music teacher married to a professional, independent woman with a different last name, and they seem to be skeptical that we can function so well. I tell them that it's easier. It's easier when we're both free to be ourselves, manifesting unique set of gifts, inclinations, and abilities. I think it makes for a much more dynamic relationship.
After all, I'm convinced that the paradigms of "biblical" manhood and womanhood are fabrications. The highest calling of any person is to follow Christ wholeheartedly. A marriage relationship free of gender rigidity has given me the freedom to do so.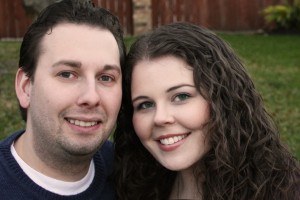 Jonathan Aigner is an elementary school music teacher and the traditional worship minister at a United Methodist church. He holds degrees in music and theology from Baylor University and Wheaton College. He enjoys music, baseball, and trying to make the scattered thoughts in his brain sit still long enough to blog. Kelsey is a Licensed Professional Counselor and practices at Houston Center for Christian Counseling. Jonathan and Kelsey were featured in the Spring 2012 issue of Mutuality, a Christians for Biblical Equality publication.
Next week's Equally Yoked post is from Karen Beattie.
Want to contribute to the Equally Yoked series? Email Jenny at jennyraearmstrong@gmail.com.
Leave a comment for a chance to win Families Where Grace is In Place by Jeff Vonderven. Winner announced March 1st!