Today's Equally Yoked post is from Jessi Clemmer.
"You, Todd, will speak something…and you, Jessi, will speak something…but your one-flesh will also communicate something very powerful itself."
These were the words spoken to us by a wise, prophetic, older gentleman, as he was encouraging my husband and I in our partnership-style ministry.  It struck me as very profound.  This idea of 'oneness' is something truly unique and mysterious.
It seems to me that too often we have removed all 'mystery' from marriage.  If we understand the concepts of Ephesians 5 to mean that a husband 'heads' the wife, and she 'submits'–well, there's certainly nothing particularly mysterious about that. Isn't it the way most corporations are run?  There's the top dog, the CEO, the 'head' of the corporation…and everyone else.  Rather cut and dry.
So what's so different about marriage that Paul would refer to it as a "great mystery," both as it relates to husband and wife, as well as Christ and the Church?
Well, in my opinion, here's the mystery.  "Head" doesn't go with "submit"–it goes with body.  A husband and wife become so completely one, so totally joined and connected, that it seems as if they were one-flesh. And head and body go together.  A mystery of two-become-one.  Individuals, but not separate.
My husband Todd and I co-pastor a church that we planted nearly 8 years ago.  When we started this journey, we thought he would serve as senior pastor, and I as an elder.  Coming from the backgrounds and traditions we did, it was a growing process for us to come to the point of learning and accepting that women could, in fact (and in completely good conscience), serve in such a leadership role.  Stretching as it was for us to arrive there, we had no idea of the even greater growth ahead.
As we walked the process of church planting, it became more and more obvious to both us and our team that I seemed to be more of the 'primary vision carrier' for the church.  It seemed I was always wrestling with having big ideas, but trying to hold back and desperately seeking to strike a balance of 'suggesting' things (that I was rather sure of) to Todd, while trying to be sensitive to his lead role and not wanting to force things on him.  While he often agreed with what I was sensing, he felt like it just wasn't 'him' to make it happen.  Neither of us was 'wrong,' but something just wasn't working.  It felt like there was a cog in the gears, and we kept getting jammed up.
We began to realize the simple reality was we were probably serving in the wrong roles and we needed to 'flip.'
Our leaders and the congregation almost seemed to give a sigh of relief when we came to them with this thought.  It was something both they, and we, had been watching play out, but because of our (mainly MY) hang-ups and old thought patterns, we had held back from really addressing.  We, along with our leadership team and our oversight, decided to make an official change of positions that would release me to fully lead out in vision casting and the 'big picture' stuff, and allow Todd to be the 'details guy' that he felt was a better fit for him.
The synergy we have experienced from embracing our roles in ministry, and our giftings, and being able to just operate in the way God designed us, has been an amazing blessing that has not only brought personal freedom, but blessing and growth to our ministry and church as well.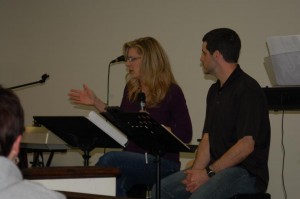 The release we both now feel allows us to more effectively teach and preach.  While I do most of the leg work in our sermon prep, we spend time processing, discussing and praying about what we will share in our service, and then we preach together.  We do it in a way that we flow back and forth, tagging on each other's thoughts, in a rather conversational style.  We finally feel complete freedom to be 'us' in ministry. We simply share out of who we are.
Who we are is a one-flesh.  I think, for us, this is the only way ministry can really happen.  It's how we are wired.  And part of the power of God at work in us is this demonstration of the mystery of "One." 
People often ask Todd if it bothers him that I'm the lead pastor.  He loves having the opportunity to explain to people that it doesn't bother him any more than it bothers Jesus who is seated at the right hand of the Father, when his Bride is fully released into ministry, operating in complete Oneness with him.  Jesus doesn't feel 'threatened' by his Bride; in fact, he told her she would do "even greater works" than He.  It pleases Him, because his Bride doesn't operate disconnected and separate from him, but rather in complete unity, with and through his empowerment.  In the same way, Todd regularly tells people how excited and proud he is when he sees me ministering, whether it's as we preach together, or as I do something on my own, because he is, in fact, part of what I am doing.  While it may be me up speaking, he has a very vital role in whatever I am doing, and vice-versa.  We are one in everything.  There are things that we individually bring to the table–talents, giftings, callings–but there is something unique to the one-flesh that makes a greater whole than just the sum of the parts.
It really is a great mystery.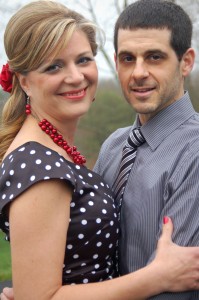 Jessi has been married to her high school sweetheart, Todd, for over 20 years.  Together they (with an amazing team) planted a church 8 years ago, called Koinonia House, where Jessi now serves as the lead pastor.  They also have a daughter and three sons, who keep them running in multiple directions at all times.  They live about an hour outside of Philadelphia, which makes them die-hard Phillies fans…for better or worse.  When she manages to find a spare moment, you can find Jessi blogging at "Finding my Voice."
Next week's Equally Yoked post is from James-Michael Smith.

Want to contribute to the Equally Yoked series? Email Jenny at jennyraearmstrong@gmail.com.
It's the last week of the May Kindle Giveaway–don't forget to enter!