The Ekklesia Foundation for Gender Education is one of my favorite ministries ever. I have seen the amazing work they do in Kenya, and across East Africa. I have cried over the stories of the women and girls who have come to them for help. And I am in awe of the courageous, counter-cultural leadership of Kenyan clergy and laypeople who are taking a stand against the oppression of women and girls, sometimes risking their own lives in the process.
Here's the deal. EFOGE is building a building that will help the ministry become self-sustaining, providing a home for the director and his family, office space for the ministry, and extra office space that will be rented out to cover the operating expenses. This is an AMAZING opportunity for them, but due to some unforseen circumstances, their funding came up short. They need to raise another $5,000 ASAP to get the roof on before the December rains come. If this does not happen, it could put the building in jeopardy.
Would you consider donating? Check out their fundraising page and do it here. It's super-easy!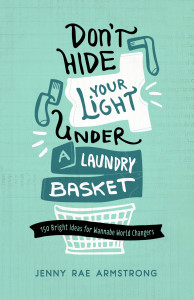 I would like to give more to this project, so I am doing my own mini-fundraiser. Here's the deal. My book, Don't Hide Your Light Under a Laundry Basket, is $15, and it costs me about $2.50 to mail them. If you buy a copy (or several copies–Christmas is coming!) directly from me, I will donate $5 of each book sale to EFOGE. Comment on this post, in the comments section or on social media, if you'd like to do this. Obviously this doesn't work if you buy the book on Amazon or somewhere else, and I can't do it indefinitely, but I can make it happen for a little while!
Let's raise the roof for EFOGE!